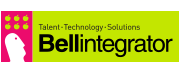 Postal address:
8B/1 Fabriciusa str., office 4-49, Minsk, Belarus, 220007.
Website:
www.bellintegrator.com
E-mail:

Phone:
+ 375 29 650 27 27
BELL INTEGRATOR
Bell Integrator, Inc.
Bell Integrator is a global consulting, technology services and outsourcing company, delivering mission-critical solutions that address the most complex business and technology needs of large corporations in the finance, telecom, transportation, and healthcare industries. Customers include carriers such as VimpelCom (NYSE: VIP), MTS (NYSE: MBT), MegaFon (LSE: MFON), and Rostelecom (OTCQX: ROSYY), which collectively serve over 600m subscribers daily, top-tier global banks, including Citibank, Deutsche Bank, Raiffeisen Bank, Societe Generale, and others, with an average capitalization of over $10bn, large transportation and healthcare enterprises.
Bell Integrator has over 2,300 employees in 10 locations in US, Russia, Latvia, Belarus, and Kazakhstan.
Target Activities: