National Finals of World Robot Olympiad Held in HTP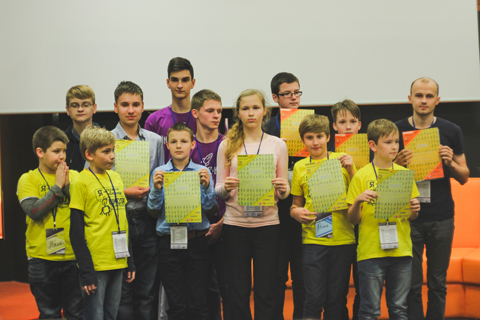 25 October 2016
25 October 2016
On October 22-23, the HTP business incubator hosted the national finals of the World Robot Olympiad (WRO) to determine the Belarus team for WRO 2016.
Young engineers competed in the following categories: Regular, Open, Advanced Robotics Challenge, and WRO Football. In the Regular Category, teams create and program a robot which can collect garbage on the way to school, build a waste sorting plant, or reforest a notional forest edge – depending on the participants' age.
In the Open Category, teams were required to present their robot with a designated theme. This year, the participants created robots to help reduce the amount of industrial and household waste, manage and recycle waste.
To participate in WRO Football, teams must create two soccer playing robots – a forward and a goalkeeper – with a special infrared sensor.
The Advanced Robotics Challenge was held as a bowling tournament with robots as bowlers. There was an additional difficulty – a green pin which was not allowed to be knocked down.
The team winners to represent Belarus at WRO 2016 are as follows:
Regular Elementary Category – Alexander Vasilevsky and Pavel Vlasov;
Regular Junior High Category – Dmitry Yatskevich and Pavel Goaman;
Regular Senior High Category – Bogdan Kapenkin, Nikolai Yakubov and Alexey Bikov;
Open Elementary Category – Ivan Turik and Alexey Glaz;
Open Junior High Category – Karina Tsiulya, Vladislav Pekar and Kirill Ustinov;
WRO Football – Maxim Shpilevsky and Vladimir Sanko;
Advanced Robotics Challenge – Alexander Moseichuk, Ilya Malyshko and Nikita Kasinsky.
For reference:
The World Robot Olympiad (WRO) a global robotics competition for young people, with over 22,000 teams from nearly 60 countries participating. WRO 2016 will be held on November 25–27 in New Delhi, India. Belarus team will compete at WRO for the third time. Last year, we were among 4 best teams.